Sajal Ali, a Pakistani actress, has taken down her spouse Ahad Raza Mir's name from her social media accounts, fueling speculation that the couple had split up.
On Instagram, the Sinf-e Aahan star has changed her name to her maiden name, hinting that the pair has divorced, which has shocked their followers.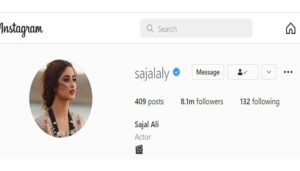 The actor from Ye Dil Mera did not attend Sajal's sister Saboor Ali's wedding while in
Dubai with his family, sparking rumours of their breakup.
The 28-year-old actor was also absent from the marketing for his wife's film Khel Khel Mein.
However, while speaking to a media outlet, Sajal clarified that Ahad was working and thus could not be present with her.
"Ahad is at work," she explained, "and he isn't in Pakistan, so he isn't here."
The couple married in March 2020 in Dubai, attracting a lot of media attention due to the fact that both actors have large fan bases.